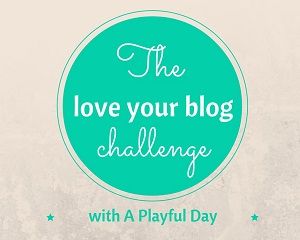 Community and Interaction
I'm joining with the
Love your Blog Challenge
from A Playful Day. The first prompt is Community and Interaction in relation to blogging. I'm not sure how I feel about this topic, my blog does not have a huge following (that I am aware of), unless there are a ton of lurkers here that do not post comments. I myself am guilty of reading many blogs on a regular basis and not commenting. I guess that is kind of the anti-interaction ...
So, here's is my question to you - do you read a lot of blogs on a regular basis, but do not comment?
There are several reasons why I sometimes do not comment ... I start to and get stuck on what I want to say, I don't want to be another "yeah" comment, I don't have the platform to comment coherently (phone, tablet - no real keyboard), and will the blogger read and respond to my comment?
On the flip side, I certainly have "met" some really cool people through blogging, that I keep tabs on regularly and we share back and forth. I am happy with that, I would rather have a few people who comment that I can share with then a ton of superficial "relationships".
Sometimes I look back at my blog and its a great journal or record of my crafting. I rarely share personal stuff on my blog, its all about the knitting, spinning, crafting and of course ... some kitties.
So my last question is, why do you blog?